With October upon us the year of 2023 is starting to wind down. And we have now begun the journey into the holiday season. This year, we at Garbett Homes thought we'd like to give you a peak behind the curtain and let you get to know those behind your homes just a little bit better, by sharing what some of our employees, including yours truly, love about these holidays. Starting with Halloween, of course. What's the holiday season without the gateway holiday after all? So join us this week as we write about why and what we love about this festival of scares, treats, and delights.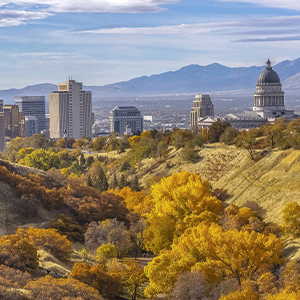 Why Do You Love Halloween?
"I love that the change of seasons is usually in full swing and things have gotten cooler," Glenn, our marketing manager says continuing that he "hate[s] being hot and would rather be cold than hot, but I also don't like extreme cold so fall is perfect." While our New Home Specialist, Janie, said. "It gives people an opportunity to be a kid again, be silly and dress up. I love opportunities to have people come out of their shell and have a fun time. Not to mention, who doesn't love Pumpkin Spice?" "Halloween can be whatever you want it to be." Remarks sales associate Marcus. "It can be a fun, family-friendly trip to the corn maze with face paint and Disney costumes, or as an adult, a visit to the scariest haunted houses, murder mystery parties, horror movies, or just a general exploration of the dark and macabre." And as for myself, dear reader? The scary stories of course! Having grown up with Goosebumps and Alvin Schwartz's Scary Stories to Tell in The Dark trilogy, how could I not have a little love for Halloween in my writer heart?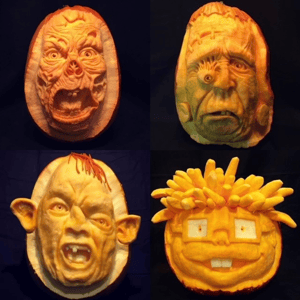 What Are Your Favorite Halloween Traditions?
Growing up, my mom would make "monster mash" for breakfast to kick off the festivities. A breakfast consisting of Cream of Wheat with Fruity Mini Marshmallows in it. It was always a good way to start the day off right. "My extended family gets together and celebrates every single year." Recalls Janie, "We decorate cookies, have donut speed eating contests, bob for apples and pop candy filled balloons." She elaborated adding that "…everyone really personifies their costume. I love how it's such a silly night!" On traditions Glenn had this to say, "I love to drive around or walk around with my family a day or two before Halloween when most people have decorated their homes and look at all the decked out houses." Turning towards the subject of Halloween Entertainment he added, "I love nostalgic shows that come on in the fall from growing up and watching them with my kids. I don't like horror movies and am a scaredy cat so I usually stick to shows for the younger crowd. My kids and I watch Hocus Pocus late at night after we are done trick or treating." When Marcus was asked, he told me about the annual pumpkin he sculpts. "I go many steps beyond just carving the pumpkin; I shave, whittle, chisel, poke, cut, scrape, mold, and sculpt a pumpkin into various dark, scary, or just fun characters. In the past 10 years or so, some I've done include Frankenstein, a zombie, Sloth (from The Goonies), the evil witch from Snow White, Chucky from Rugrats, Slimer from Ghostbusters, and many more. It always takes multiple hours to complete, but it's well worth the time and effort, I know many people who look forward to seeing what this year's creation is."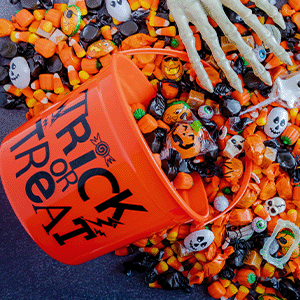 What's Your Favorite Halloween Costume? Favorite Treat?
"I think my favorite costume would be the time I constructed a giant, man-sized Cup 'O Noodles" States Marcus, telling me about how he loves to conceptualize the costume and find ways to bring it to life. When it came to Halloween treats he said, "I love a good caramel apple, Nerds Gummy Clusters, Kit Kats, Snickers, and Almond Joy." All fantastic answers in this writer's opinion. "I am often a Gladiator or Skeleton." Glenn said while adding it was mostly just his current rotation and that he has recently added some more costumes recently. When asked what his favorite candy was he quickly answered "Butterfinger." Janie, who has a soft spot for Reese's Fast Break bars told me about last year's Taco Tuesday family costume. "I was a taco along with my husband while my little baby was an avocado! It was so cute!" She stated with a trademark smile in her voice. As for myself, as I left college and started to work, I've gained a fondness for stealth costumes during the day. Something that looks professional but gives you a fun secret you can keep to yourself or share with others. While at night I try to be a little more elaborate. Aliens, ghost butlers and the like. As to Halloween Candy? While it used to be Bubblegum, these days I tend to stick to Reese's Peanut Butter Cups and Three Musketeers.
It shouldn't be too surprising that we at Garbett Homes have some passionate fans of Halloween. After all, beneath the ghost stories, candy and costumes, lies a celebration of the safety and comfort home provides. Now that we've shared what we love about Halloween we'd love to hear from you in the comments. And if you're on the search for that safety and comfort of home, we have communities in Farmington, West Jordan, Midvale, and Murray. Please consider reaching out to our New Home Specialist and Happy Halloween.