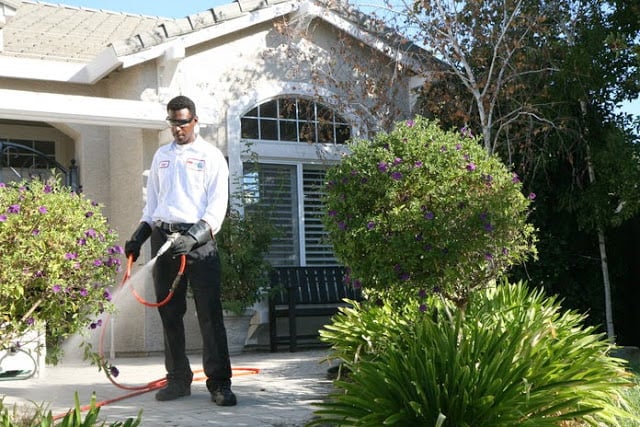 While Springtime brings many good things like warm weather and sunshine, it can also bring out more bugs and pests. These annoying critters are always looking for food, shelter and new places to hide. Don't let your home be one of them! Follow these steps to ensure that you're home is pest free and happy.
Seal it Up: Before worrying about how to get bugs out, the first step is to seal all entry points. This means checking the foundation for cracks or any small place where bugs can shimmy in. It doesn't take a huge opening to create a entry way for insects! Cracks and gaps can be found around doors, vents, light fixtures, windows and piping. Seal any area up so that nothing can get it!
Don't Fuel Them: The only way these guys will stick around is if you give them the right resources to do so. Make sure you seal away all food and drink in your home. Avoid keeping fruits and vegetables on countertops. Be extra cautious about disposing of garbage and recycling. Make an extra effort to rinse out containers before tossing them in the trash and emptying cans and bottles before you put them in the recycling.
Landscaping: Shrubs and plants are beautiful around the home, but make sure to keep some space between them and the exterior of a house. This will lessen the chances of bugs being able to sneak their way in any open area. If you have firewood, keep it at least 20ft away from your home, as wood is a breeding ground for all types of pests and insects.
Dehumidifier: If you find that your basement or other areas of your home are particular moist and sticky during the Spring and Summer months, try a dehumidifier. These help soak up the extra moisture and dry out your air, just enough to make sure bugs don't find it to be their home sweet home.
When it comes to pest control, prevention is key. Following these steps will help ensure that you and your family have a worry free Spring and Summer ahead of you. However, if you do find insects in and around your home, be sure to contact a pest control service immediately. The sooner you treat the problem, the sooner they are gone!
Garbett Homes is one of the premier new home builders in Salt Lake City. Imagine a place where a house becomes a home in a location you always dreamed of. Garbett Homes offer energy efficient homes in Salt Lake City that can meet every one of your needs.