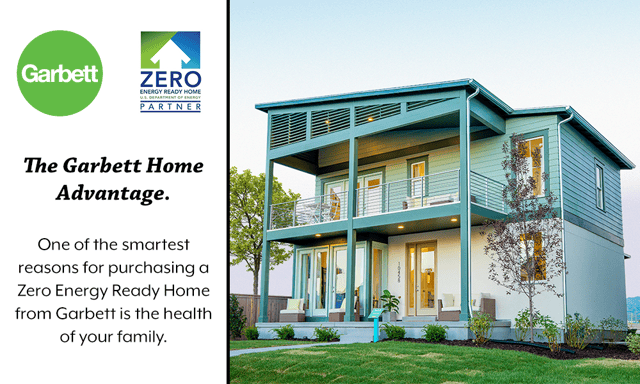 On September 27th, 2016 at the EEBA Excellence in Building Conference and Expo, Garbett Homes was awarded its second U.S. Department of Energy Home Innovation Award! And now, ALL homes built by our award-winning company are Zero Energy homes. According to the U.S. Department of Energy, a Zero Energy Ready Home is "so energy efficient that a renewable energy system can offset almost all of its annual energy consumption." A Garbett Zero Energy home includes:
High-performance insulation systems for enhanced quiet and year-round comfort for the whole family
Fresh air systems to protect from drafts
High-performing comfort systems
High-efficiency appliances
Advanced lighting technology for energy and water savings
Homes that are built to these stringent specifications are independently certified by the U.S. Department of Energy. Due to the department's high standards, only a select group of some of the top builders in the country are able to build them. Although Zero Energy Ready Homes can be now found in almost every state, there is some concern that this home of tomorrow is out of reach for the average home buyer. So, why is a Zero Energy Ready Home the right choice for your next home purchase?
DOE Initiative
The Zero Energy Ready Home is the future of home building in America. Part of the U.S. Department of Energy's Better Buildings Initiative, these homes are required to be 20 percent more energy efficient over the next decade. So, buying a Zero Energy Ready Home means more savings for you over the life of the home. Not only are these homes built to last longer, they're built to keep you warmer, dryer, cooler, cozier and healthier all year long. Zero Energy Ready Homes use advanced framing techniques to control moisture and air flow so efficiently that an air-tight seal is created. This keeps the cleaned, heated or cooled air in, and pollutants and air leaks out.
Healthier Home = Healthier You
One of the smartest reasons for purchasing a Zero Energy Ready Home from Garbett is the health of your family. Because of their airtight seal and high-efficiency air filtration systems, Zero Energy Ready Homes have indoor air that's clean and fresh. Pollutants and airborne allergens can't get in, which reduces the symptoms of chronic conditions such as seasonal allergies and asthma. Our indoor air filtration systems work so well, dust mites, pet dander, mold and pollen are no longer a problem for homeowners because the system is constantly refreshing, filtering and mixing the indoor air.
A Question of Comfort
In a Garbett Zero Energy Ready Home, cold, hot and drafty areas are things of the past. Our high-efficiency insulation keeps your home at a steady temperature, meaning year-round comfort for you and your family. And with all that high-performance insulation, you can rest assured that your home will be a quiet retreat for loved ones and guests.
The Garbett Home Advantage
Garbett Homes are built with families in mind. Because the Garbett Zero Energy Ready Home is the house of the future, we make every Zero Energy home attainable for most home-buying budgets. Garbett homes in Utah average $6 per month for energy, which equals approximately $3,580 per year in savings. That adds up to $152, 258 over the span of a 30-year mortgage. It's easy to see how a Zero Energy Ready Home helps pay for itself!
If you and your family are ready for tomorrow's home today, don't wait! For more information about Zero Energy Ready Homes in Utah, call us now.