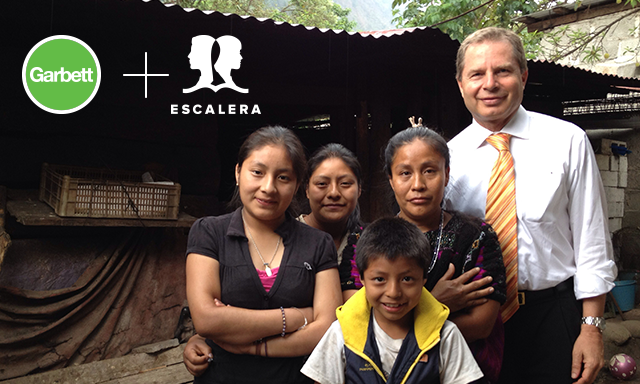 Bryson Garbett Is Honored for Charitable Work
Bryson Garbett, President and CEO of Garbett Homes, has been honored by the National Association of Realtors for his tireless efforts to improve education for disadvantaged students in the state of Chiapas, Mexico. The National Association of Realtors is the largest trade association in the country, and each year they sponsor REALTOR® Magazine's Good Neighbor Awards. Bryson was awarded the 2017 Good Neighbor Award for his work with Escalera, the charitable foundation he began in 1998.
The Good Neighbor Award contributed $10,000 to Escalera in honor of Bryson's charitable work. They also shine a spotlight on the importance the foundation's mission and expand its reach to potential donors.
Escalera's Work
Escalera's mission is to help Mexican children continue their education so they have better opportunities in life. Bryson began the charity with his wife, Jan, after a service trip to Mexico allowed them to witness first-hand how extreme poverty and limited educational opportunities hold back students in Chiapas, Mexico's poorest state. Escalera raises money to build schools and provide scholarships to encourage students to continue learning and preparing for work that will raise their standard of living.
The Secret to Escalera's Success
Part of Escalera's success lies in its efficiency. As Bryson recently explained to REALTORMag, his experience building houses with Garbett Homes allowed Escalera to build classrooms in six weeks instead of six months. Bryson and Jan travel to Mexico regularly to oversee the work and to discover new ways they can help improve education and build community alongside the people of Chiapas.
Garbett Homes also reaches out to their own community in Utah to spread the word about Escalera's work. In addition to sharing their goals with home buyers and using their platform to raise awareness for their cause, they also challenge their business partners to donate to the cause. Garnett Homes's "1% for Schools" program asks businesses to donate .5 percent of their earnings to Escalera; Garbett Homes matches those donations to make the contribution a full 1 percent.
To date, Escalera estimates that its programs have touched the lives of over 76,000 students in Chiapas. As the charity heads towards it 20th birthday, it's clear that Bryson and his foundation are just getting started.