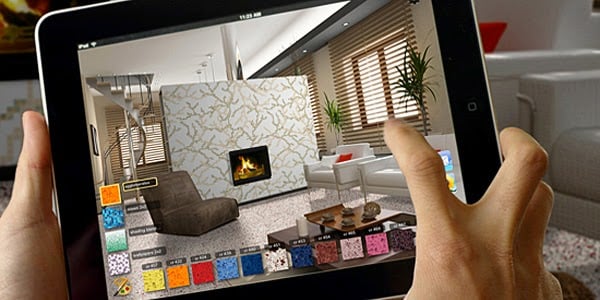 While spending countless hours in Ikea might sound like a good idea for home decoration and design, it might not be the most efficient way. From color schemes and furniture to interior design and floor plans, we have discovered that there is a website and a mobile app for just about everything regarding your new or soon-to-be home. Not only can you get organized before you execute, you can see all of your options and the endless ideas that are out there. Here are four of the latest and greatest in home design tech that can help you out in more ways than one.
Houzz - Free
A hub of home professionals and homeowners, Houzz brings together the best in design. Visualize rooms, bookmark ideas and connect with others in the homebuilding industry. With over 6 million photos, Houzz is a great place to get inspired, start fresh or reinvent all of the rooms in your home. Shop for furniture and decor and find home professionals that can provide you with a wide variety of services to make your house your dream home.
Floorplanner - Free
With Floorplanner, you can create and share interactive floor plans. This application allows you to easily draw floor plans, switch up the interior and put all your ideas in one place. They have an interactive and informative blog that can get you started on the right foot if you have never used their application before. It also has articles for the more advanced floorplanner to get the most out of their program.
Lowe's Virtual Room Designer - Free
Lowe's Virtual Room Designer is a free program that allows you to reinvent each room in your home. View designs from multiple angles so you can get the full effect of what your future spaces might look like. Create variations of each and every room and plan out every step of the process.
ColorJive - Free Trial, $12/month
It's like seeing the color without picking up a paint brush. ColorJive's intuitive program allows you to upload a photo of a room and see what it would look like in a different shade of, well...anything! Choose from the colors offered by Sherwin-Williams, Glidden and Benjamin Moore. Upload your first photo for free on ColorJive to try it out. After that, unlimited access to the program is $12/month.
All of these programs and applications are great helpers when it comes to designing and planning the inside and outside of your home. Of course, nothing beats an old fashioned piece of paper and a pen to create a well thought out pro and con list. Make sure you know exactly what you want before you pull the trigger! These programs just make seeing what it will be like a little easier.
If you're eager to relocate and design a new house, let Garbett homes help you build your dream home. Garbett Homes is an energy efficient new home builder in Salt Lake City that offers some of the most green homes in Salt Lake City.