When a home builder advertises "energy efficient homes for sale!" What exactly does that mean? Sure, the equipment and appliances inside a home can be energy efficient. But a home?! That must be buzzword marketing nonsense. Right? Wrong. Let's talk about what energy efficient home builders do to set themselves apart from the competition.
What Makes a Home Energy Efficient?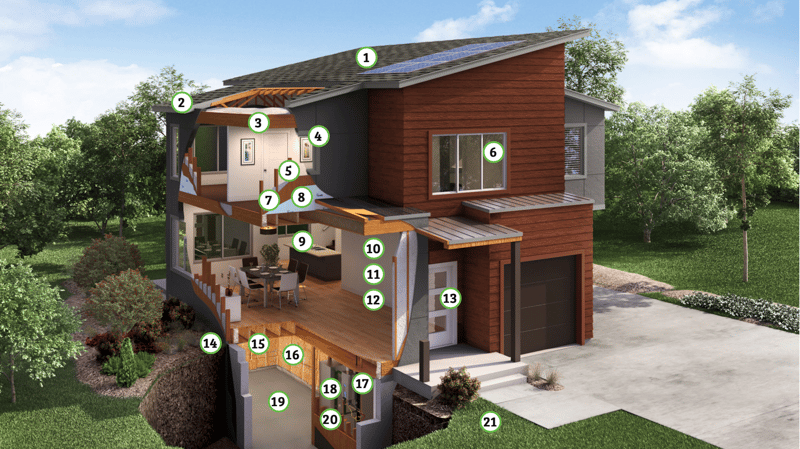 On average, 46% of your energy bills will go to heating and cooling your home. Meaning almost half of the energy your home uses can be blamed on your HVAC system. Why are we talking about this? Because the way your home is built takes HVAC energy efficiency to the next level. After all, anything is at its most efficient when it works the least.
For the energy efficient home builder, the name of the game is preventing air leaks. Or HVAC treated air that leaves the home and is considered an energy inefficiency. Countering this inefficiency starts with how the home is framed. Instead of the traditional 2x4' walls with studs spaced 16 inches apart, our walls use 2x6 walls that space studs 24 inches apart. This allows us to use denser spray-in insulation foam instead of batt insulation in our exterior walls. Filling in small holes that air can escape from and ensuring they stay in the home instead of heating or cooling the outdoors. As a bonus, although not related to energy efficiency, this means energy efficient homes might also use less wood than their competitors.
Windows are another potential contributor to inefficiency that the home builder has control over. In the summertime most windows conduct heat. Raising the temperature in your home and forcing your HVAC system to run longer than it should. While blackout curtains can help mitigate this problem. You lose natural sunlight that could have been used instead of electric lights, also decreasing your energy efficiency. This is why Garbett Homes, and other energy efficient home builders use triple paned Low-Emittance (Low-E) windows. Low-E windows let light come in while blocking the UVA and UVB rays that give off the sun's heat from penetrating past the exterior pane. While the middle and interior panes help reflect air back into your home, keeping your home at the temperature you want it to be for longer.
But the job still isn't done there! The rim joists making up the floors and ceilings of your home have holes for plumbing and electrical work to run through them. Holes that have enough room for air to sneak out of. Making your HVAC do more work to keep you at your desired temperature. An energy efficient homebuilder like Garbett blocks off this path of escape by installing insulation between the joists. Sealing even more air in.
But doesn't warm air rise? What do you do to keep me warm in the winter? Good question. We do indeed have you covered. Energy efficient homes offer raised hill roof trusses to accommodate more blown-in insulation, and sealing in openings in the attic with foam gaskets we seal off airflow out of the attics. Meaning that your warm air can only get so far before it is forced to go the way we want to go.
In the state of Utah, Garbett Homes is the only locally owned home builder to offer true energy efficient homes for sale. And we've only scratched the surface, of what makes us the leading green homebuilder in the state of Utah. If you want to learn more about the amazing energy efficiency of Garbett Homes and how that energy efficiency can help you save money in the long run. Reach out to our new home specialist today! Or swing by one of our Model Homes in West Jordan, Farmington, or Midvale.