Going out for the evening, while fun, can sometimes be your enemy. Especially if you're getting ready to buy a new home. Outings can mean spending money on gas, restaurants, drinks, tickets, maybe even parking. It can certainly add up and eat into your ability to save for a downpayment. Sometimes what your budget needs is a cheap night in. But make no mistake, staying in doesn't mean staying bored. Here are seven ideas that could help you, and your friends and family have a fun night that might help you save money.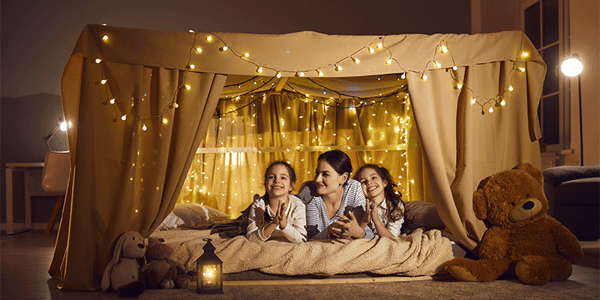 1. The Living Room Campout
Part of what makes any activity fun is the novelty factor, turning this childhood staple into a fantastic activity whether you have children or not. Set up a tent (or blanket fort) in the living room, turn the lights off and enjoy some microwaved s'mores. It might not replicate the real thing, but this cozy change of routine could definitely make for a night you won't forget.
2. Sports Bar Night
At the start of the 2023-2024 Basketball and Hockey seasons the Utah Jazz and the Vegas Golden Knights will be broadcasting their games on local channels you can get via antenna for free. Meaning that you and your friends can have all the fun of cheering on your team together at a fraction of what it used to cost at home or in person. Make the night even better by offering themed drinks and food to enjoy throughout the game! A fantastic opportunity to start a new tradition that can be even better when you carry it over to your new home!
3. Surprise Book Club
Sure to delight everyone of all ages this activity is not only good for your mind but can support your local community. Visit the local library with your fellow book club members, be it friends or the rest of your family, and have everyone pick out a different book. Apart from the host, (you or your partner in the case of a family book club), everyone should keep the book they selected secret from each other. On the day before your books are returned to the library have everyone meet up and discuss their books. The key to making this more fun than a normal book club is the surprise factor. When you don't know what everyone else reads you create opportunities to learn more about your fellow book club members in unexpected ways! Even better, you'll be supporting your local library and feeding that hungry bookworm's appetite for stories without breaking the bank!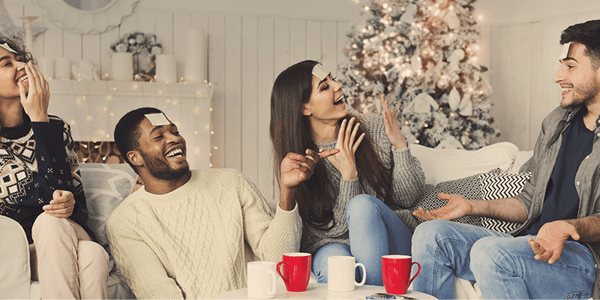 4. Tabletop Game Night
An expanded version of the at-home socializing staple, tabletop game night is open to any game that doesn't require electronics. Creating an activity where you can spend as much or as little as possible. You certainly can go for classic board games and party games like Sorry, Charades, Pictionary and the like. But with this definition you can also give yourself permission to get wilder. Test out your acting and storytelling skills with a roleplaying game like Dungeons and Dragons, Pathfinder, or Fiasco. Yes, there are more roleplaying games than Dungeons and Dragons, search for "Tabletop Roleplaying Games aside from Dungeons and Dragons and you'll probably find something that suits your tastes if you don't like fantasy. There are even sports themed ones! With some creativity, these games can even be free thanks to the existence of dice rolling websites and phone apps. Swing for the fences and create an unforgettable evening without breaking the bank.
5. Home Arcade Night
The electronic update to the above category. Chances are high that you have at least one game console with a few games on it at your house. Invite some friends over and hold an arcade night! There are several multiplayer games that can delight your friends and family. Or you can spend the evening taking turns at a single player game seeing how far everyone can get. Want to make it feel even more like an arcade night? Have everyone bring a small prize with a $25 spending cap that your guests can "win" through points or whatever challenges you can think of. The potential is only as limited as you want it to be.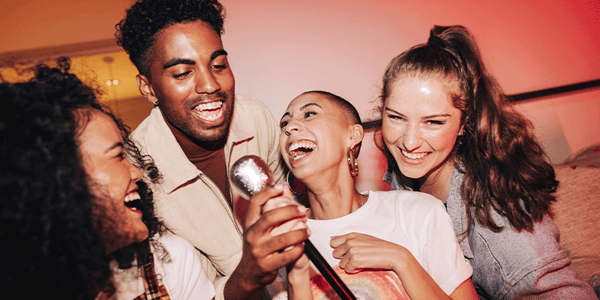 6. Karaoke Night
Yes. Seriously. This activity that was trendy in the 2000s can still be fun with the right people and attitude. Especially because YouTube has essentially made it free! Gather a few friends, pick out some songs and just let loose. The trick here, and for all these activities, is to do your best to approach it with enthusiasm and sincerity. After all it's less about what you do and more about who you do it with.
7. Red Carpet Movie Night
Hold a movie night with a costume party twist! Start out the night by giving your glamourous guests the finest Hollywood treatment as they come down the entryway. (Replicating a red carpet is of course optional.) Enjoy classic homemade theater snacks or your own personal favorites for refreshments. Spread the fun and save some more money by making it a potluck. Then dim the lights and enjoy the show! Whether you dress to the nines, or match your outfits to fit the movie, this delightful activity is sure to dazzle and please.
While it might mean shifting your priorities around a little, saving up to buy a new home doesn't mean you have to stop having fun with your friends and family. What good is buying that new home if you're going to become a joyless husk to get there? Which is why we hope these suggestions might help you on your homebuying journey. And who knows? Maybe you'll discover new traditions you'll take with you to your new home. If you think you're ready to start your homebuying journey please reach out to our New Home Specialist and check out our communities in Farmington, West Jordan, Murray and Midvale today!