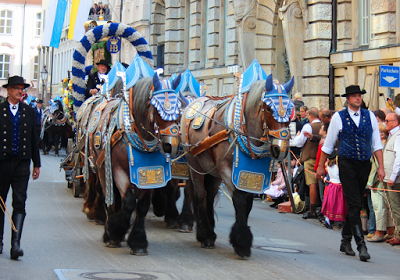 Salt Lake City is a melting pot of diverse year-round festivals. As a city with beautiful landscape and a unique community, it is a location that has much to offer to all ages. Whether you're looking for an exciting night on the town or a fun day with the family, there is never a dull moment in Salt Lake City. Check out a few festival traditions within the city and its surrounding area.
Salt Lake County Fair
This is the perfect family-friendly activity to bid the summer goodbye. Each August, Salt Lake City provides four jam-packed days of entertainment, rides, games and good eats. This fun county fair channels the wild, wild west with its annual rodeo, travels back to medieval times with its jousting tournament, and hosts an array of other activities such as concerts, petting zoos, and fishing.
Main Street Arts Festival
Artists and art-admirers alike will love this summer festival located on the quaint Magna Historic Main Street. Adults will enjoy art shows, crafting contests, and vendors (the perfect way to find some art to decorate your new home!) while little ones can play in bounce houses and experience kid-centered activities. All ages can enjoy the art of a gourmet culinary experience and live music.
Oktoberfest
As one of Utah's largest festivals, over 60,000 people trek from all over to experience Oktoberfest. This fall frenzy replicates the traditional Oktoberfest located in Munich, Germany with lots of beer, folk music, and schnitzel.
Sundance Film Festivals
Another one of Utah's most popular festivals is the renowned Sundance Film Festival. Located approximately 40 minutes outside of Salt Lake City, Sundance attracts film-makers and film-lovers to experience innovate cinematic storytelling.
Utah Festival Opera & Musical Theatre
For folks into high culture, Utah Festival Opera & Musical Theatre is an hour and a half commute for an annual five-week experience dedicated to grand opera and Broadway-style performances. Brava!
A Celebration of Cultural Diversity
Salt Lake City is home to many cultural celebrations such as the Festival Latinoamericano, Polynesian Days, and Japanese Fall Festival. A Celebration of Cultural Diversity is a performing arts festival that brings together music from around the world. While catching a traditional dance or two, you can also check out the downtown farmers market nearby!
Petpalooza
Salt Lake City even has a festival dedicated to our furriest family members. If you've just moved into your new home, why not add to the family? Petpalooza, a pet adoption festival, is hosted by the Salt Lake County Animal Services. And dogs are welcome to attend!
Salt Lake City is the perfect place for both young and old. If you're into new homes for sale in Utah, Garbett Homes provides a premier building service dedicated to constructing energy-efficient homes. For more information on Utah festivals, visit http://www.visitsaltlake.com/events/festivals/ and http://www.nowplayingutah.com/categories/index/8/353