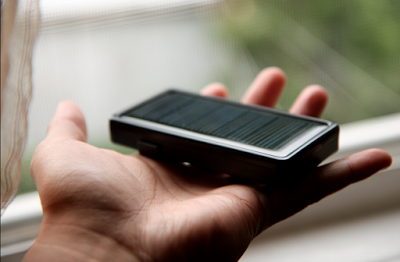 One of Garbett Homes' biggest draws is the energy efficient homes that are innovatively built with the purpose of being sustainable and affordable. The Promenade townhomes are an example of Garbett structures that incorporate solar-powered technology with a sleek and modern design. Solar-power, the ability to conceive energy from the sun's rays, is a concept that has been applied to many utilities in green residencies. Here is a list of household items that can be powered using nothing more than natural sunlight!
Chargers
Even in a highly technological world, going green can be easy! Solar-powered chargers for cell phones and laptops can be purchased at many electronic stores and are super simple to use. Just plug in the device and let the sun work its magic.
Lamp
It's easy to save money on your electricity bill when utilizing solar-powered lamps. They also come in an array of stylish designs to fit in almost any room of your home.
Air Conditioning
Solar air conditioners are becoming an increasingly popular fad amongst those living sustainably. Beating the summer heat can waste tons of electricity but also can be fixed...especially if you're into DIY projects. For the steps to making your own energy efficient AC unit, click here.
Dryer
Miele, a German manufacturer, was the first to create a dryer that could be powered by the sun. It was presented at IFA, the world's largest electronic trade show, and works by using solar panels that generate heat. Using a home's central heating system, the dryer uses hot and cold water and then extracted moisture to do its job. Sound a little too techy? Apparently it works. Currently this product is more commonly used in other countries but is certainly something we might see more in the future!
Refrigerator
Sun-powered fridges and freezers are the perfect addition to an energy efficient house! These appliances can be a bit pricey but save money on electric bills after the initial purchase. Investing in one of these is a great way to switch over to a greener lifestyle.
Vehicles
Cars might not be a "household item," but they are possibly one of the most popular solar-powered appliances being used in America today. The biggest draw of this newer invention is its ability to conserve energy and eliminate the vast amounts of pollution due to car motors.
If you're interested in living a green lifestyle in a unique and beautifully designed home, check out the new homes for sale in Utah through Garbett Homes.