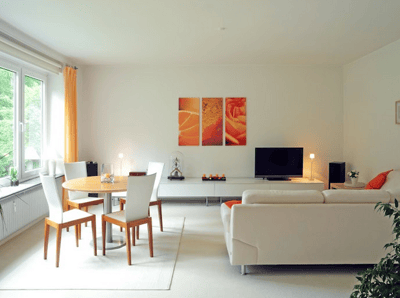 So you have a new house (or maybe you're thinking of buying one) and it's just not saying "you." The process of moving is an exciting time but can quickly be overshadowed by the stress of packing, unpacking, and (even more discouragingly) trying to make your new place feel like home. Here are a few simple tips to making that new home feel a lot more "homey."

1. Paintings, Murals, and Rugs, Oh My!

This first tip can be applied to any room of the house. Adding a colorful rug or hanging a mural can make the feel of the room less drab and more welcoming. A few prime spots to hang a painting or mural are above the TV, on a "blank" wall, above a bed, or in the front room where it will be the first thing that your guests see!

2. Pillows Galore

Colorful, patterned, or textured pillows can accentuate any room. They don't take up much space and they're the comfiest decoration you can buy!

3. Softer Lighting

Often, in a room, lighting is what keeps you from feeling relaxed at the end of the day. If you're feeling that the lighting is too bright or not cozy enough when you're settling in for the night, try investing in a few lamps. Not only do they enable you to adjust the "mood" of the room, but they make your home more tasteful!

4. Coffee Table Reads

If you're looking to give your living room that extra bit of TLC, setting out a few of your favorite books on a coffee table or side table can be the perfect touch. They show personality, add a little something to the room, and put those forgotten cookbooks to use!

5. Personalize Your Bookshelf

Most people have some sort of bookshelf in their home. It's easy enough to use these pieces of furniture to store your library or movie collection, but go the extra mile and personalize with a few other things; coffee mugs, picture frames, trophies, and artwork can make a your shelf--and your room--POP!

6. Show Off That Collection

That antique collection sitting in a box in your attic…Show that off! It'll make any given room have a lot more personality than just standard store-bought home decor.

7. Live In Color

This is one of the most basic things that can be done to make a new home feel a little more personal. If you're feeling that your living room just doesn't have the cozy factor, accenting a wall or two can make a world of difference.

Purchasing new homes in Salt Lake City is Garbett Homes speciality. Located in a beautiful area, this premier builder offers energy efficient houses that are sure to feel like home.