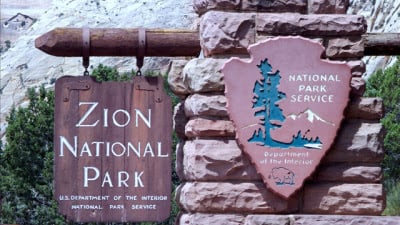 Utah is home to beautiful and natural landscapes, attracting visitors from around the world. From the sheer cliffs and deep canyons, to the naturally made bridges and arches, there are many reasons that Utah boasts the title, "America's National Park Capitol." Learn more about the five national parks in close proximity to Utah, so that you can carefully plan your next "national park-hopping" weekend.
Arches National Park is home to the world's highest concentration of natural arches, with over two thousand of these natural beauties. This park offers several different hikes throughout the area, with many scenic look-out points along the way. The Fiery Furnace is one of the most popular hikes, and requires a tour guide. It contains narrow passages, large boulders, towering canyons, and much more to experience. This hike, along with a stroll down Park Avenue, a one mile walk through massive sandstone towers, makes a trip to Arches National Park well worth it.
Bryce Canyon hosts thousands of brilliantly colored and delicately carved spires. You have the chance to see many of these from the park's viewpoints. There is a 37-mile round-trip drive that takes you to the fifteen most popular viewpoints. From these, along the rim of the canyon, you can see the real beauty and grandeur of the size and colors of Bryce Canyon. During the sunrise and sunset, is when the colors and hues of the canyon really come alive. These views are so breathtaking, that it is worth a trip to Bryce Canyon, even for just a sunrise or sunset experience.
Capitol Reef National Park is characterized by its sandstone formations, cliffs and canyons, monoliths, massive domes, and spires of sandstone. Capitol Reef National Park is located directly off of HWY 24, and most of the attractions can be accessed easily off of this highway. Attractions at Capitol Reef National Park include the scenic drive, campground, fruita district, and the welcome center. Along the scenic drive and trails, you will see natural formations such as Chimney Rock, Hickman Bridge, Capitol Dome, Fremont River Waterfall, and Spring Canyon. There is so much to see and do at Capitol Reef National Park.
Canyonlands National Park consists of canyons and plateaus carved by the Colorado and Green Rivers. This park offers whitewater rapids and 4x4 roads, some of the most challenging in the country. It also offers hiking and biking trails, and other recreational activities to engage in. When visiting Canyonlands National Park, make sure to visit the Northern side, the island in the sky mesa, where you can look straight down 1,000 feet to get some incredibly scenic views of the surrounding country.
This park is renowned for its famous hikes, incredible canyons and spectacular views. Zion's hiking possibilities are virtually endless, making it the most used National Park in Utah, and attracting almost three million visitors each year. The most famous hikes to take while at Zion National Park are The Narrows, Subway, and Angels hiking trails. Make sure to hike these trails and visit the following attractions on your next visit to Zion National Park: Temple of Sinawava, Weeping Rock, The Grotto, Great White Throne, Emerald Pools, Court of the Patriarchs, and many more.
These National Parks are for everyone, and are in close enough proximity to plan a family trip to visit them all! Drive through and sight see, or hike the innumerable amount of trails and canyons, just make sure to plan enough time so you don't miss anything!
Interested in starting a new chapter in Salt Lake City? Check out our list of new homes for sale.