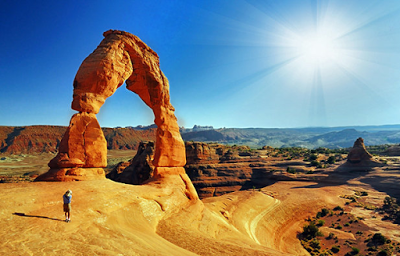 Salt Lake City has some of the most amazing scenery in the world, and the surrounding cities contain some of the most extreme and incredible camping options. Whether you are looking to take a quick drive up the canyon, or a weekend camping trip in Southern Utah, there are many places for you to visit. Here are five of our favorite places to go camping in the Salt Lake City area.

1. Albion Basin-Albion Basin is one of the most scenic places to camp in Salt Lake City. It is known for its vivid summer wildflowers, and other wildlife including moose, deer, and mountain goats. This camping site offers several trails for hiking and mountain biking. These trails include a path to Cecret Lake and Catherine Pass/Sunset Peak Trail for Hikers. Mountain bikers usually ride the Albion Basin Road and the trail to Germania Pass. Other trails include the Albion Meadows Trail and Cardiff Pass/Twin Lake Pass. For information about the campground, visit: http://www.reserveamerica.com/camping/albion-basin/r/campgroundDetails.do?contractCode=NRSO&parkId=70226.

2. Stansbury Island- Stansbury Island is the second largest island in Great Salt Lake. This island hosts a 9 mile mountain biking path, and two caves to walk through. There are approximately 5 scenic high points to visit on the island, but the highest is Castle Rock at 6647 feet tall. While on Stansbury Island, you can expect to see wildlife ranging anywhere from lizards to wild turkey to deer. There is plenty to see on your visit to Stansbury Island. For more information on Stansbury Island camping, visit:
http://www.summitpost.org/stansbury-island-castle-rock/279296.

The Spiral Jetty- Chances are, you have seen a picture of this magnificent piece of art, but did you know it was right in your back yard? Thats right, it is located on the north arm of Great Salt Lake. Be careful when planning a visit to the famous Spiral Jetty, as some time it is completely submerged under water. The differing wind and cloud cover cause a different experience each visit. For more information, visit:
http://climb-utah.com/WM/spiraljetty.htm.

Willow Lake- Located in Big Cottonwood Canyon, Willow Lake is a great place to hike to and camp for the night. While here you are likely to experience amazing wildflowers and other wildlife including moose. You can have different experiences based on which time of year you visit. In the fall, you can experience intense colors, and in the summer, you can experience a fuller lake experience. For more information on Willow Lake, and its camping options, visit: https://www.theoutbound.com/utah/camping/camp-at-willow-lake.

Little Grand Canyon- The Little Grand Canyon, as it sounds, is a miniature version of the Grand Canyon. However, it is not as small as it sounds, it is actually quite incredible. A positive for camping Little Grand Canyon is that it is not as well known as other camping spots, and it is often not visited as much as other landmarks in the area. Little Grand Canyon offers trails for both off-roading and hiking, hunting areas, incredible rock formations, and plenty more. Little Grand Canyon is the camping spot for you, if you are looking for a more secluded spot with amazing scenic views. For more information, visit:
https://www.theoutbound.com/utah/camping/camping-at-the-little-grand-canyon.

Thinking about moving to Salt Lake City? Check out our list of new homes for sale in Utah.