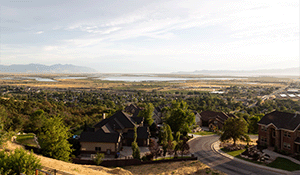 First off it's a great place to live.
Centrally located between Ogden and Salt Lake City, Farmington, Utah could be considered the greatest hits of northern Utah brought to life. Home to the historic Lagoon Amusement Park, the excellent mixed use Station Park development, and the county seat of Davis County. Farmington is a great place to buy a home for families. Please join us on a short written tour of why this city is part of Utah's cream of the crop.

Playground of the Wasatch Front
Since 1886 Farmington has been host to the historic Lagoon Amusement Park. When Utahns crave thrills, churros, and pure summer joy, Lagoon is where they go. However, the fun doesn't end there; with mixed use Station Park offering movies, shopping, restaurants and offices, plus nearby outdoor recreation, it's not hard to think of Farmington as the playground of the Wasatch Front. All before even touching on the nearby water park and campground Cherry Hill!

A Remote Worker's Paradise
Just because it's a hub for play, don't be mistaken, Farmington is one of the best places for remote workers to buy a home. A UTA commuter rail line in the city center means you are easily connected to the rest of the Salt Lake Valley but isolated enough to hide away when the deadlines stack up.

Designed For Family
As previously mentioned, Farmington's central location between Ogden and Salt Lake City, makes it one of the best places in Utah for families. There is always something to do together, or easy transportation to where something is happening. A recently constructed high school and the school district offices in the same city sets the scene for children to receive a high quality education.
If Farmington sounds like an idyllic place for you, or someone you know looking to buy a home. Hurry to Fiore, Garbett Homes' new 30 townhome community in the heart of it all and tour our Vincent model home. This community will go fast so visit now! (801) 396-9095 & mattj@garbetthomes.com