Why you should buy a New Townhome in Utah?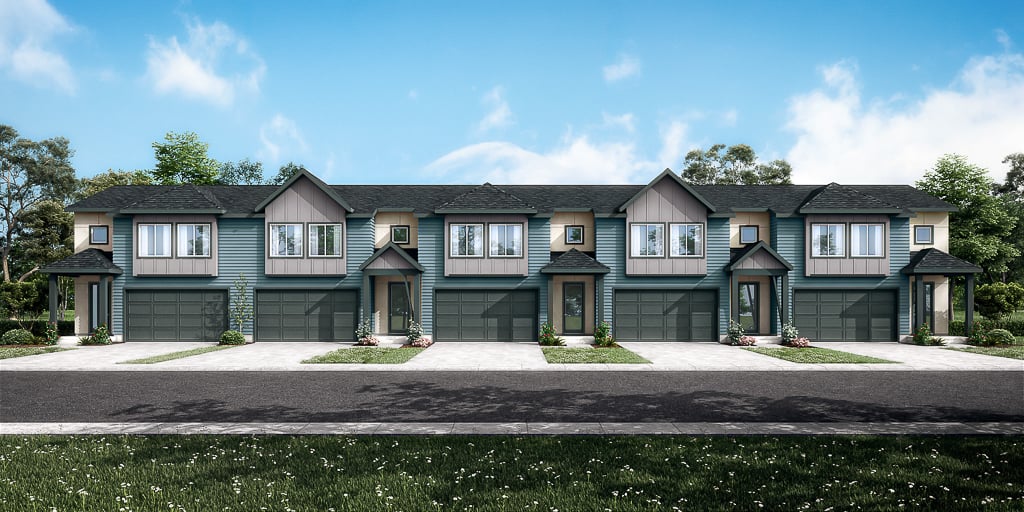 When history classes of the future teach about the 2010's and 2020's, they will call them decades of change. Change in people's perception of work, in how people socialized, media consumption habits. The internet finally reaching the potential many in the 90's dreamed of. Another change that we believe will be taught about, will be the rising popularity of Townhomes among Utah homeowners.
Always seeking to be on the cutting edge of Utah's homebuilding needs. Garbett Homes is proud to be working on several new townhomes in Utah, starting with Fiore, a community of 30 new townhomes in Farmington. With this in mind, we thought now would be a good time to help introduce the discerning Utah homebuyer, to this wonderful type of home.

What are Townhomes?
When viewed through a simplified lens, townhomes could be considered the middle ground between an apartment and a traditional detached single-family home. Like an apartment, a townhome is multiple homes constructed within a larger structure. Unlike an apartment you have no upstairs or downstairs neighbors. Even more importantly, like a traditional detached single-family home, you own your home and the land your home is on. You are building sturdy, valuable equity with your property with less of the demands of the traditional detached home.

Who Are Townhomes For?new
While in the past townhomes were mostly seen as an acceptable option for first-time homebuyers and newlyweds, today they are seen as a trendy, modern alternative for a variety of people. Between lower maintenance demands and comparatively lower price tags, townhomes are also fantastic for downsizers, small families, social butterflies, and people who are just on the go! Want to just pick up and go and not have to be tied to a yard and home that require constant maintenance? Prefer to spend your time hiking, biking, camping, traveling to cool places or even just sit home and read a book on a lazy Saturday? A townhome may be the perfect home for you!
But I Want to Live in a Nice Neighborhood Like My Parents Did!
Aside from the fact that whatever neighborhood you're picturing in your head from childhood does not exist, what makes you think townhomes aren't neighborly? Townhomes can greatly enhance the opportunities to be social and create a neighborhood environment, you just need to act on it. Tanner and Samuel are having a cook-out tonight? Why not walk over and ask if you can join? Fale and Jane are going on vacation somewhere? Sure, you can keep an eye on the place! It's just next door. Liam is hosting an outdoor movie night? Offer to bring the popcorn! Townhomes offer the best of both worlds, social opportunities when you need them, and privacy when you crave solitude.
They Have Shared Walls, Won't That Make Them Noisy?
The same building techniques that make Garbett Homes, Utah's greenest homebuilder, can help in that regard. Densely insulated walls don't just help with energy efficiency, it can also dampen sound. With proper maintenance between yourself and the HOA, sound transfer should not be a major issue between yourself and your neighbors, unless you play the bagpipes. If you do not believe us, feel free to visit one of our upcoming townhome projects and test it for yourself.
Anything Else I Should Know?
At Garbett Homes our townhomes are built to the same exacting requirements for Zero Energy Ready status and similar HERS Index requirements as our traditional detached family homes. We pride ourselves on being able to offer our green living benefits in a more compact package. We believe that you will love your new townhome. If you're still not convinced, please come to the Grand Opening of our Fiore community in Farmington this Saturday and see for yourself!

Learn more about our newest townhome community HERE!