The Benefits of Localscaping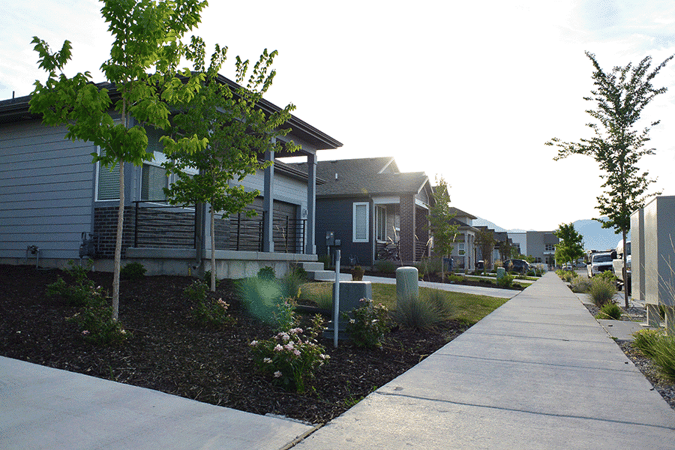 If you have visited a new Garbett Homes community, you may have thought something felt different that you couldn't quite put your finger on. If you are still mulling over what that was, then I can put your mind at ease and tell you right now. It was the lawn. As a standard across all our homes Garbett Homes utilizes a design style called localscaping on our front lawns.. Creating beautiful lawns that sip water instead of guzzling it. As the first homebuilder to voluntarily meet this higher standard of landscaping, many might not be familiar with the benefits that this will offer our homebuyers. I spoke with Cynthia Bee, the outreach coordinator for Jordan Valley Water Conservancy District, to help our homebuyers in West Jordan, Murray, Midvale, and other cities in the Salt Lake Valley learn more about how they benefit from localscaped yards.

It's Forward Thinking
Garbett Homes has been making steps to localscape their communities since 2017. This demonstrates that Garbett Homes once again pushes a step past the standard to put us at the forefront of green homebuilding. This forward-thinking attitude means that Garbett helps you save money, not only on your water bill, but with landscaping costs as city ordinances catch up to where Garbett already stands.

It's Practical
Do you dream of watching the world pass by while sipping on a refreshing beverage from a porch swing in your front yard? What about the ultimate outdoor grilling station complete with dining patio? Localscaping can be the spark you need to bring your dream to life! This focus on a balanced landscape means that you now have readymade areas perfect for whatever outdoor living needs you dream about.

It's Water-Conscious
Worried that localscaping means ugly sterile yards with no plant life? Not so dear reader! We're not coming for your flowers. A localscaped yard does not mean zero plant life whatsoever. There are many beautiful plants that have adapted to the Salt Lake Valley's climate and can thrive off a drip irrigation schedule that localscaping implements. Leading to more variety and visual interest than the traditional sea of grass, flower bed, and if you're lucky, an inoffensive but terrible for climbing, tree. Still not convinced? The image at the top of page features a row of mature localscaped homes from a prior Garbett Homes projects!! You want to see it to believe it? Why not tour the Jordan Valley Conservation Garden and see it in person for yourself, actually, go check it out anyways, it's a free date or family outing!

Easy to Change as you Change
Life comes at you fast is not just a pithy slogan for a 2000's insurance ad campaign. It's a central truth to existence. While today you may need a small outdoor play area for your little ones, in 5 years getting rid of the playground and putting in a firepit social space may be just what you and your family need to be the toast of the neighborhood. A localscaped yard can make your family's everchanging wants and needs easier to envision and less costly to implement. Not only making your family the envy of the neighbors, but also leading to higher home values and happier wallets.

Landscaping can be a challenging thing to wrap your head around, both Garbett Homes and the Jordan Valley Water Conservation District, understand this. We hope that this has helped you understand some of the benefits of localscaping your yard, but we're also aware that we haven't covered everything. If you would like to learn more, come check out these free courses JVWC offers here! Or you can always schedule a visit to one of our model homes by reaching out to Matt at (801) 396-9095 & mattj@garbetthomes.com and see what landscaping with Utah's climate in mind looks like for yourself.
Garbett Homes has ensured your new home starts with a Localscaped front yard, but you can keep the magic going in the backyard as well—and potentially qualify for landscape rebates to help you do so. The Localscapes Rewards program, offered through Utah Water Savers (utahwatersavers.com), provides cash-back incentives for your complete backyard Localscapes installation.